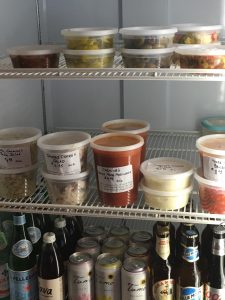 Scenario #1: You get home from work. Open the fridge. Last week's leftovers staring you in the face. You just changed clothes and are not interested in going grocery shopping or even going out to grab a bite.
Scenario #2: You have friends visiting unexpectedly and you want to entertain, relax and chat in the comfort of your own home and there's no time to go food shopping.
Introducing "Carmine's at Home". Think picking up a quart of house made marinara, box of dried pasta, Carmine's proprietary grated Italian cheese blend, salad dressings or even a sandwich roll to toast in the oven, slathered with garlic and butter. A slice of Carmine's cheesecake or cannolis for dessert. All that's needed to complete the meal is a pot of water to cook the pasta and you've got yourself an easy, delicious and hassle free dinner.
You'll find other signature items to enjoy at home: Bolognese sauce, Carmine's house made salad dressings, quarts of smoked chicken salad from Little Carmine's, olives, pepperoncini peppers, single servings of Carmine's house, Caesar or Pear Salads, bottles of olive oil and balsamic vinegar to name a few. Carmine's at Home items available next door in the cooler at Little Carmine's Italian Sandwich Shop 11am-7pm Tuesdays-Sundays.